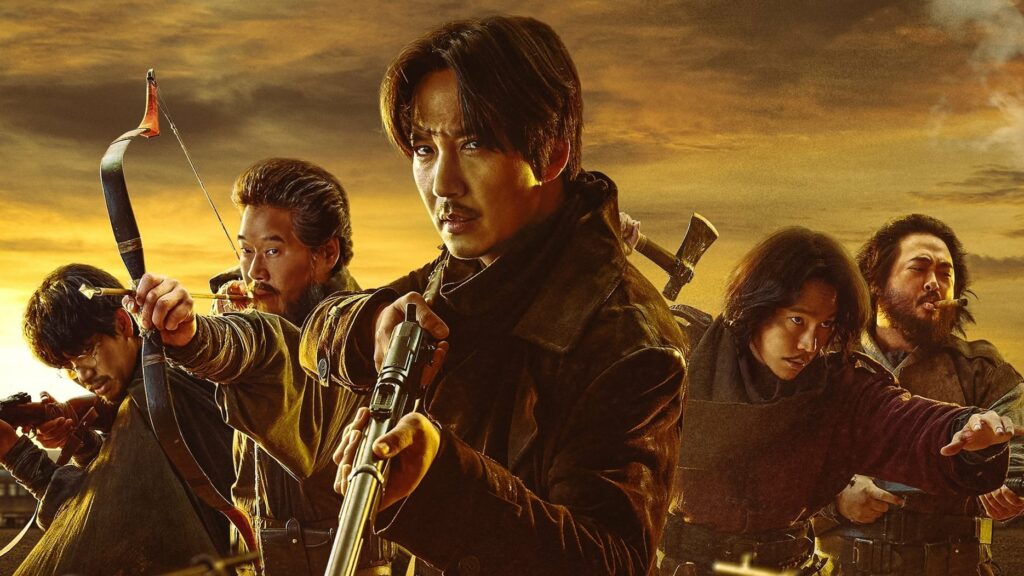 Song of the Bandits is a raw, gut-punch of a historical drama that sucks you straight into the heart of Korean territories under Japanese rule. Director Hwang Jun-hyeok masterfully unveils a world where life teeters on a razor's edge, and every character is a coiled spring, ready to risk it all for a glimmer of freedom. If you've ever wondered about the resilience of the human spirit under relentless oppression, this is the cinematic experience for you.
Now, you may be wondering how to catch this riveting series if it's not available in your region. No worries, I've got you covered. To seamlessly stream Song of the Bandits without any hiccups, I highly recommend unlocking your world of entertainment with ExpressVPN. With crystal-clear quality and zero buffering, you won't miss a second of this gripping tale.
Step-by-Step: How to watch Song of the Bandits on Netflix via VPN
Select a VPN service that is optimized for streaming. We recommend ExpressVPN
Download the VPN and connect to the US server.
Log in to Netflix.
Find Song of the Bandits and stream it no matter where you are!
Song of the Bandits Synopsis
Song of the Bandits, a captivating K-drama, unravels amidst the tumultuous era of Japan's colonization of Joseon. This masterfully crafted series dives deep into the hardships of the Joseon people, forced to move in search of a better life due to escalating adversity.
At the drama's core, an audacious group embarks on a treacherous voyage to Jiandao (or Gando in Korean). Their daring spirit not only enables them to carve out a new home but also sees them evolve into a formidable band of outlaws. With its rich historical backdrop, Song of the Bandits emerges as an unmissable treat for history buffs and K-Drama aficionados alike. Whether you're drawn to its historical intricacies or its compelling narrative, this show promises a riveting journey through time.
Song of the Bandits Cast
Main cast members of Song of the Bandits include:
Kim Nam-gil as Lee Yoon
Diving deep into the psyche of Lee Yoon, Kim Nam-gil presents the tumultuous life of a Korean conscripted into the Japanese military during South Korea's occupation. Watch as he morphs into a bandit in Jiandao, China, fiercely guarding a community against threats—his arc is bound to captivate.
Seohyun as Nam Hee-shin
Showcasing her chameleon-like acting prowess, Seohyun becomes Nam Hee-shin, a master of subterfuge who hides behind a facade in the railway bureau under Japanese rule. Her presence weaves in a spellbinding depth to the plot.
Yoo Jae-myung as Lee Chung-soo
Embodying the spirit of Lee Chung-soo, Yoo Jae-myung captures the essence of an ex-army commander from Korea's fight for independence. As he takes the reins of the Korean enclave in Jiandao, his character becomes a linchpin in the drama's progression.
Lee Hyun-wook as Lee Gwang-Il
Lee Hyun-wook brilliantly portrays Lee Gwang-Il, the cunning Japanese military officer whose dynamic with Lee Yoon ensures viewers are on the edge of their seats. His role infuses the narrative with electrifying tension and suspense.
Lee Ho-jung as Eon Nyeon
Step into a world of danger with Lee Ho-jung's Eon Nyeon-i, an elite assassin with unmatched sharpshooting skills. Her mission to take out Lee Yoon in Jiandao guarantees a whirlwind of action and high-octane drama.
When does Song of the Bandits premiere?
Song of the Bandits, the much-anticipated K-Drama, is slated to make its grand premiere on Friday, September 22, 2023. Mark your calendars, because this epic tale will be available for binge-watching exclusively on Netflix.
How many episodes does Song of the Bandits have?
Episode Guide for Song of the Bandits
Episode 1: 22 September 2023
Lee Yoon breaks free from his master's grip and ventures into North Gando, seeking a figure from his past. Yet, danger lurks at every corner, putting his strength and alertness to the test.
Episode 2: 22 September 2023
Nam Hee-shin heads to the railroad ceremony with a clandestine agenda. As her plan unfolds, unexpected hiccups arise and rivals start to catch on.
Episode 3: 22 September 2023
Lee Gwang-il takes a brutal approach to pry information from an independence fighter. Sparks fly as Yoon crosses paths with Hee-shin, further stoked by Eon-nyeoni's provocations.
Episode 4: 22 September 2023
Buzz about the railroad funds circulates, leading Yoon and his crew into a showdown with the Mounted Bandits. Meanwhile, Hee-shin plots her own schemes.
Episode 5: 22 September 2023
Yoon zeroes in on the railroad funds, finding himself in the eye of a storm. He later joins Hee-shin on her mission, only to encounter yet another obstacle.
Episode 6: 22 September 2023
Choi Choong-soo probes into Yoon's intentions, realizing the potential strain on their alliance. Eon-nyeoni delivers a stark warning to Choong-soo.
Episode 7: 22 September 2023
Eon-nyeoni falters in her mission and ends up captured. As a coalition forms to confront Gwang-il, Hee-shin and Yoon decide to go their separate ways.
Episode 8: 22 September 2023
Tensions peak as Yoon faces off with Gwang-il in a high-stakes duel. Choong-soo and his band of rebels engage in a fierce battle against Jang Ki-ryong and his troops for the town's safety.
Episode 9: 22 September 2023
Choong-soo's crew comes to blows with local authorities. In a stunning revelation, Gwang-il, Hee-shin, and Yoon unveil the Japanese Army's hidden agenda for Gando.
Song of the Bandits Trailer
Start Watching Song of the Bandits Now
Don't miss your chance to plunge into the suspenseful world of Song of the Bandits. With its gripping storyline, complex characters, and rich historical context, this K-Drama promises an epic adventure that will keep you on the edge of your seat. Whether you're a history buff or a die-hard K-Drama fan, this series offers something captivating for everyone. Mark the date, September 22, 2023, and get ready to binge this enthralling drama exclusively on Netflix.
If the show isn't available in your region, fret not! You can still catch every pulse-pounding moment without a hitch. To enjoy Song of the Bandits seamlessly, we highly recommend using ExpressVPN to unlock your full entertainment potential. Say goodbye to regional restrictions and hello to crystal-clear, buffer-free streaming.