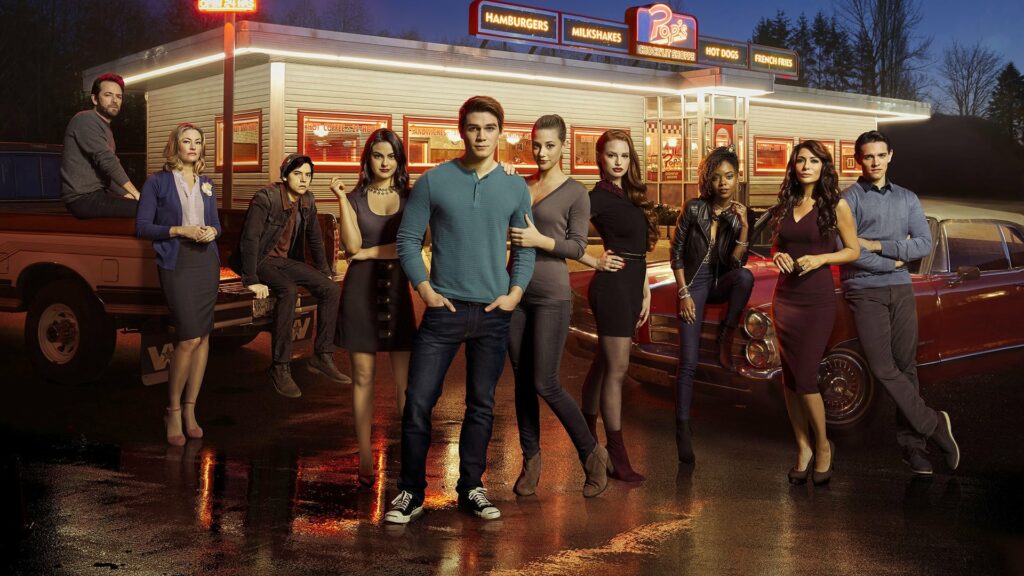 Riverdale, now in its riveting seventh and final season, continues to enthrall with its intoxicating mix of unpredictable plots, impassioned romances, and unforgettable scenes. As the curtain descends, fans are left wondering: will our beloved characters make a triumphant return to the present, or will they forever be ensnared in the bygone days?
For UK viewers eagerly anticipating this climax, here's your guide: catch Riverdale Season 7 on The CW for free. And if geo-restrictions pose a hurdle, fear not. I've got a golden tip: consider harnessing ExpressVPN to seamlessly unlock the viewing experience.
Step-by-Step: How to watch Riverdale season 7 in the UK on The CW for free using a VPN
Select a VPN service that is optimized for streaming. We recommend ExpressVPN
Download the VPN and connect to the US server.
Log in to The CW.
Find Riverdale season 7 and stream it no matter where you are!
Riverdale season 7 Synopsis
Riverdale's Season 6 finale saw Cheryl's enchantment safeguard the town, yet unexpectedly catapulted everyone into the 1950s. Intriguingly, only Jughead retains memories of their former lives. As the curtains rise on Riverdale Season 7, the premiere episode titled "Don't Worry, Darling" delves into the journey of a writer clashing with the era's societal conventions and the challenge of reliving teenage years.
Yet, beneath this retro facade, the core mystery persists. RAS, the showrunner, hints at a looming darkness set to unveil by the climax of episode 2. While specifics remain shrouded, clues suggest it's intertwined with the season's central narrative: juxtaposing the tangible 1950s against the romanticized American dream of the period.
Riverdale season 7 Cast
In Riverdale's final season, fans can anticipate the return of their favorite characters. The star-studded cast includes:
KJ Apa as Archie Andrews
Lili Reinhart as Betty Cooper
Camila Mendes as Veronica Lodge
Cole Sprouse as Jughead Jones
Madelaine Petsch as Cheryl Blossom
Casey Cott as Kevin Keller
Charles Melton as Reggie Mantle
Vanessa Morgan as Toni Topaz
Drew Ray Tanner as Fangs Fogarty
Erinn Westbrook as Tabitha Tate
Mädchen Amick as Alice Cooper
When does Riverdale season 7 premiere?
Riverdale's final season premieres on The CW at 9 pm ET/PT on Wednesday, March 29th.
How many episodes does Riverdale season 7 have?
Riverdale season 7 Episode Guide.
Season 7, Episode 1: Chapter One Hundred Eighteen: Don't Worry Darling (March 29, 2023) – Post-Bailey's comet, the team finds themselves in the nostalgic backdrop of Riverdale, 1955. Archie endeavors to charm new entrant Veronica, whereas Toni, Tabitha, and Betty challenge the authority of Principal Featherhead.
Season 7, Episode 2: Chapter One Hundred Nineteen: Skip, Hop, and Thump! (April 5, 2023) – The buzz of Riverdale High's sock hop is palpable with Archie envisioning a dance with Veronica. Betty grapples with Kevin's distant demeanor, and Jughead's endeavors target Pep Comics.
Season 7, Episode 3: Chapter One Hundred and Twenty: Sex Education (April 12, 2023) – A perplexing lesson in sex education nudges Veronica to orchestrate a make-out soiree at the Pembrooke. On another front, Jughead's bid to assist Ethel spirals him into tricky waters.
Season 7, Episode 4: Chapter One Hundred and Twenty-One: Love & Marriage (April 19, 2023)
Season 7, Episode 5: TBA (April 26, 2023)
Season 7, Episode 6: TBA (May 3, 2023)
Season 7, Episode 7: TBA (May 10, 2023)
Season 7, Episode 8: TBA (May 17, 2023)
Season 7, Episode 9: TBA (May 24, 2023)
Season 7, Episode 10: TBA (May 31, 2023)
Season 7, Episode 11: TBA (June 7, 2023)
Season 7, Episode 12: TBA (June 21, 2023)
Season 7, Episode 13: TBA (June 28, 2023)
Season 7, Episode 14: TBA (July 5, 2023)
Season 7, Episode 15: TBA (July 19, 2023)
Season 7, Episode 16: TBA (July 26, 2023)
Season 7, Episode 17: TBA (August 3, 2023)
Season 7, Episode 18: TBA (August 9, 2023)
Season 7, Episode 19: TBA (August 16, 2023)
Season 7, Episode 20: TBA (August 23, 2023)
Riverdale season 7 Trailer
Start Watching Riverdale season 7 Now
The thrilling saga of Riverdale is back with its seventh season, and it promises a rollercoaster of emotions and suspense. From being catapulted to the past, to navigating the trials and tribulations of love and school politics, Season 7 unveils a captivating blend of nostalgia and fresh narratives. Not only will viewers witness Archie's dalliance with the mysterious new entrant, Veronica, but they'll also be treated to the unexpected aftereffects of a unique sex education session.
However, for fans outside the designated broadcast regions, geo-restrictions can sometimes hamper the viewing experience. Fear not! To ensure an uninterrupted journey through the streets of Riverdale, we recommend using ExpressVPN. This trusted service guarantees smooth streaming, ensuring you're always in the loop with Archie, Betty, Jughead, and the gang. Dive into the world of Riverdale without any barriers, and never miss a moment of this unforgettable season.