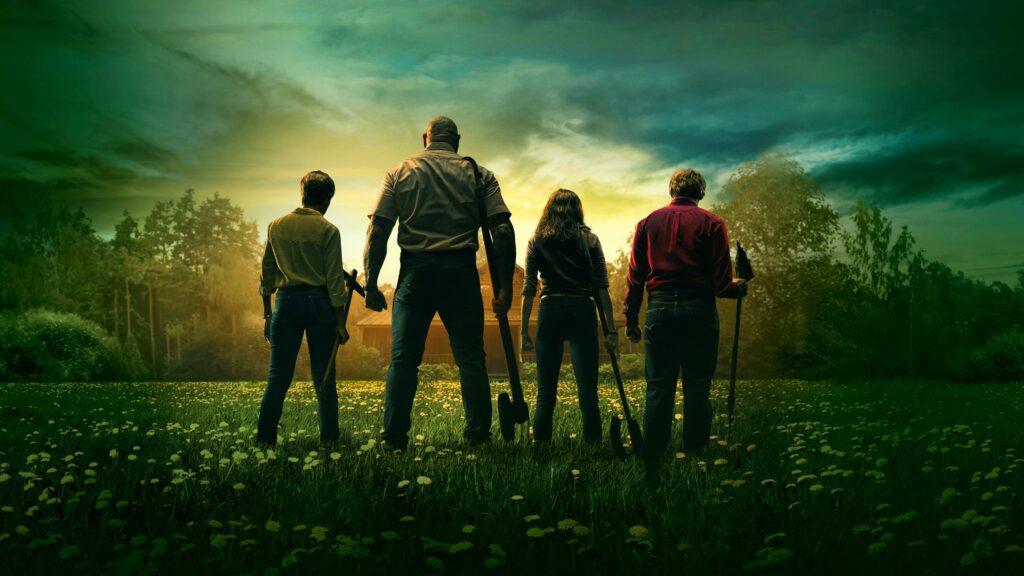 In M. Night Shyamalan's Knock at the Cabin, prepare to be whisked away on a tension-filled rollercoaster that starts as a family's idyllic cabin vacation but takes a hard left into sheer terror. Think you're signing up for a relaxing woodland retreat? Think again. Four armed strangers crash the scene, claiming they need to "save the world" and turning this getaway into a pulse-pounding ordeal. Every tick of the clock tightens the suspense, leaving you wondering who—or what—can be trusted.
Ready to dive into this heart-stopping narrative but not sure if it's available in Canada? No worries! A premium service like ExpressVPN ensures you won't miss a beat, offering seamless streaming access across borders. Don't let location limit your entertainment; with this VPN, you can join the captives and their bizarre captors in a race against time, right from the comfort of your own home.
Step-by-Step: How to watch Knock at the Cabin in Canada on Peacock TV using a VPN
Select a VPN service that is optimized for streaming. We recommend ExpressVPN
Download the VPN and connect to the US server.
Log in to Peacock TV.
Find Knock at the Cabin and stream it no matter where you are!
Knock at the Cabin Synopsis
Knock at the Cabin takes its roots from Paul Tremblay's novel The Cabin at the End of the World, but don't expect a carbon copy. The film remixes the ending, offering surprises even for die-hard fans of the book.
The storyline may be crafted from fiction, yet it echoes the unease of our times, touching on contemporary anxieties like the pandemic and climate change. Tremblay and Shyamalan masterfully blend these real-world concerns into their tale, making it not just a suspenseful ride but also a thought-provoking experience.
Knock at the Cabin Cast
Meet the stellar cast of Knock at the Cabin, the ensemble that brings this pulse-pounding drama to life:
Jonathan Groff shines as Andrew, the complex lead who keeps you guessing.
As Eric, Ben Aldridge delivers a performance that's both nuanced and gripping.
Kristen Cui steps into the role of Wen, captivating audiences with her emotional depth.
Muscle meets mystery with Dave Bautista as Leonard, a character you won't soon forget.
Rupert Grint, best known as Ron in Harry Potter, shows a darker side as Redmond.
Nikki Amuka-Bird impresses as Adriene, adding layers of tension to the story.
Rounding out the cast is Abby Quinn as Sabrina, who brings a fresh dynamic to the ensemble.
When does Knock at the Cabin premiere?
M. Night Shyamalan's latest thriller, Knock at the Cabin premiered at 12 a.m. PT/3 a.m. ET on Friday, March 24th.
Knock at the Cabin Trailer
Check out the trailer here.
Start Watching Knock at the Cabin Now
If suspenseful thrillers are your cup of tea, then don't waste another minute. M. Night Shyamalan's latest masterpiece, Knock at the Cabin, premiered at 12 a.m. PT/3 a.m. ET on Friday, March 24th. This is the cinematic experience everyone's talking about, layered with tension, surprises, and a cast that'll knock your socks off. The buzz is real and you won't want to miss out.
Wondering how to catch this must-see film if it's not available in your region? My go-to solution is ExpressVPN. With this premium service, you can effortlessly bypass any geographical restrictions and jump right into the heart-stopping action. Secure, fast, and user-friendly—ExpressVPN makes sure nothing stands between you and your next favorite thriller.