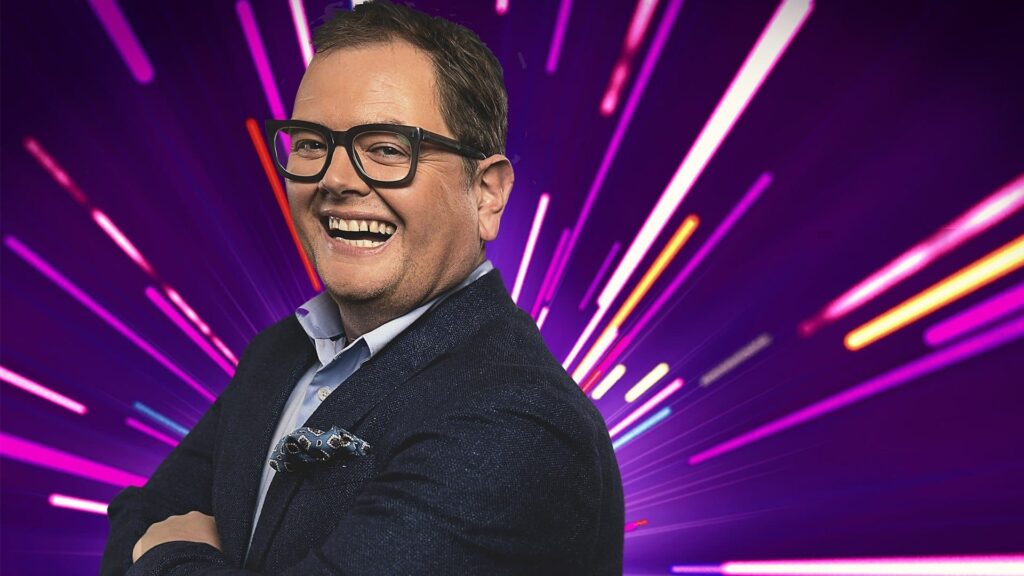 Alan Carr's Picture Slam sweeps viewers off their feet in a whirlwind of images and high stakes. Spearheaded by the magnetic comedian and TV icon, Alan Carr, this captivating quiz show has a twist: every question is a vivid image, each hiding a golden opportunity to win some cold, hard cash. Teams of two race against time, feeling the weight of every tick-tock. Naming more pictures? That's more money in the bank. Yet, the crowning glory awaits those brave enough to achieve a picture slam – naming them all to grasp the jackpot.
For those in the US keen to dive into this visual feast but facing regional restrictions, there's good news. A seamless experience awaits with ExpressVPN. Dive into Alan Carr's world, and make sure you don't miss out on the nail-biting action.
Step-by-Step: How to watch Alan Carr's Picture Slam in the US on BBC iPlayer for free using a VPN
Select a VPN service that is optimized for streaming. We recommend ExpressVPN
Download the VPN and connect to the UK server.
Log in to BBC iPlayer.
Find Alan Carr's Picture Slam and stream it no matter where you are!
Alan Carr's Picture Slam Synopsis
Alan Carr's Picture Slam is an exhilarating TV quiz spectacle where the power of recognition reigns supreme. Competing duos are thrust into a vibrant world of images, racing against the clock to pinpoint everything from familiar faces to nostalgic knick-knacks. Every correct identification is not just a testament to their sharp memory but also a ticket to hefty cash rewards.
The pulse of the show lies in its thrilling core: rapid-fire image recognition. As teams navigate through the maze of faces, places, and iconic brands, each correct guess inches them closer to the grand finale. And it's here, in the heat of the final moments, where contestants vie to achieve the coveted picture slam, with eyes firmly set on the jackpot prize.
Alan Carr's Picture Slam Cast
Host
The charismatic Alan Carr steps up as the host of Picture Slam, bringing with him a repertoire of television successes. Recognized for his judging stint on RuPaul's Drag Race UK and as the charming host of Interior Design Masters, Carr's TV legacy is undeniable. Fans might remember him from the celebrated Alan Carr: Chatty Man, which graced screens from 2009 to 2017. He's also teamed up with Amanda Holden for the reality sensation, Amanda and Alan's Italian Job. Beyond these, his credits include being a dynamic team captain on 8 Out of 10 Cats Does Countdown, and enthralling viewers with Alan Carr's Epic Gameshow and An Audience With Adele. Anticipation is in the air for his forthcoming ITV1 comedy-drama, Changing Ends, set for a 2023 release.
Contestants
While the exact cast of competitors for Alan Carr's Picture Slam remains under wraps, what's clear is the electric competition format. In each episode, pairs of contestants grapple with a board awash with intriguing images. Their mission? Identify each image under the looming shadow of a ticking clock. Those who achieve the fabled Picture Slam are rewarded with a nifty cash bonus. And the duo that dominates till the end? They stand a chance to walk away with all their accumulated cash, and if their image-identifying prowess remains unmatched, the jackpot awaits. Keep your eyes peeled for the contestant reveals as this high-stakes game unfolds.
When does Alan Carr's Picture Slam premiere?
Alan Carr's Picture Slam is poised for its grand premiere on BBC iPlayer this Saturday, September 16, at 5.50 pm. Spanning a captivating eight-episode arc, viewers can eagerly anticipate a fresh episode dropping every subsequent Saturday.
How many episodes does Alan Carr's Picture Slam have?
Alan Carr's Picture Slam Episode Guide:
Episode 1: Saturday, September 16, 2023
Episode 2: Saturday, September 23, 2023
Episode 3: Saturday, September 30, 2023
Episode 4: Saturday, October 7, 2023
Episode 5: Saturday, October 14, 2023
Episode 6: Saturday, October 21, 2023
Episode 7: Saturday, October 28, 2023
Episode 8: Saturday, November 4, 2023
Alan Carr's Picture Slam Trailer
Regrettably, a trailer for the show isn't up just yet. However, it's poised to be a captivating and delightful watch. Stay tuned!
Start Watching Alan Carr's Picture Slam Now
Dive straight into the visual rollercoaster that is Alan Carr's Picture Slam. With a lineup of eight captivating episodes unfolding week by week, there's no better time to immerse yourself in this thrilling quiz spectacle. Each episode, dropping every Saturday, promises to test the image recognition prowess of its contestants, offering viewers a delightful combination of tension, excitement, and pure entertainment.
For those facing regional restrictions or keen on an uninterrupted streaming experience, there's a game-changer. ExpressVPN comes highly recommended, ensuring seamless access to the show. Don't let borders hold you back; with ExpressVPN, every episode of Alan Carr's Picture Slam awaits your viewership!