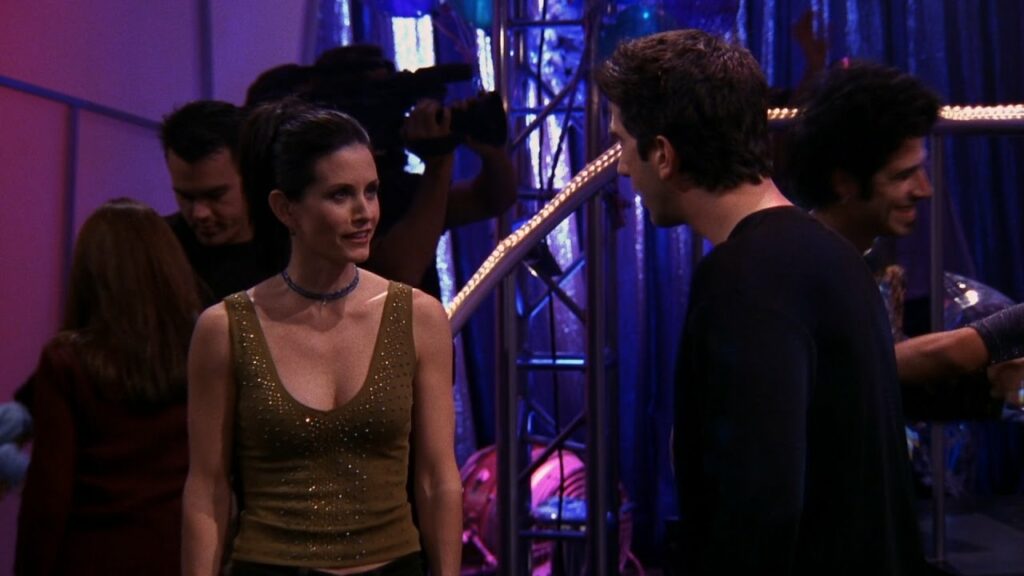 Christmas and Thanksgiving get the lion's share of the TV love, but if you're looking to ring in the New Year with your favorite show, then you're in luck! New Year's episodes may be far and few between, but iconic favorites like Friends and The Office have taken a stab of tackling resolutions and New Year's Eve traditions. Below you'll find seven of the most popular shows of all time and a list of their New Year's offerings. So forget the ball drop, and ring in the New Year with Monica, Ross, Fraiser, and Scully.
Shows In This Post:
Friends
The Office
That '70s Show
The X-Files
How I Met Your Mother
Fraiser
Seinfeld
Friends
Type: Comedy, Romance
Cast: Jennifer Aniston, Matthew Perry, Courteney Cox, David Schwimmer, Lisa Kudrow
Rating: 78% RT, 8.9/10 IMDb
Rachel, Monica, Chandler, Joey, Ross, and Phoebe are six twentysomethings trying to make it in New York City. They struggle with romantic drama, work problems, and all of the other growing pains that come with being young adults. Thankfully, they have each other to lean on through every breakup, job loss, and sandwich disaster.
"The One With The Monkey," Season 1, Ep 10
Friends combined Christmas and New Year's on more than one occasion. And although this episode includes some Christmas moments, it's actually all about New Year's Eve anxiety. As the big day approaches, the friends begin to worry about being single as they prepare for the ball to drop.
"The One With All The Resolutions," Season 5, Ep 1
https://www.youtube.com/watch?v=UV7fZd7gjJ8
Each member of the gang makes a resolution that's impossible to keep — including Chandler swearing he won't make jokes at his friends' expense. As funny as it is to see the pals try (and fail) to keep their New Year's resolutions, Ross and his leather pants win this episode by a mile.
"The One With The Routine," Season 6, Ep 10
https://www.youtube.com/watch?v=ytPjH7ikQZU
This is another holiday combo episode. Ross and Monica live out their childhood dream of being on Dick Clark's New Year's Rockin' Eve, while back at the apartment Phoebe, Rachel, and Chandler set out to find Monica's secret stash of Christmas presents.
The Office
Type: Comedy
Cast: Steve Carell, Rainn Wilson, John Krasinski, Jenna Fischer
Rating: 89% RT, 8.8/10 IMDb
The employees of Dunder Mifflin's paper company form a reluctant but compelling work family in Scranton, Pennsylvania.
https://www.youtube.com/watch?v=MYA4u82yvR8
Michael's anxiety over Holly's relationship status leads to him projecting his problems onto his co-workers as they share their New Year's resolutions with one another.
That '70s Show
Type: Comedy, Romance
Cast: Topher Grace, Mila Kunis, Ashton Kutcher
Rating: 8.1/10 IMDb
A group of teens spend their time hanging out in the basement, getting high, and falling in love in this '70s set comedy.
"That '70s Finale," Season 8, Ep 22
That '70s Show poignantly used New Year's Eve to end the show's impressive eight-season run as the gang gathered in Eric's basement to bid the '70s farewell.
The X-Files
Type: Drama, Science-Fiction
Cast: David Duchovny, Gillian Anderson
Rating: 74% RT, 8.7/10 IMDb
FBI agents Fox Mulder and Dana Scully investigate all things paranormal in their quest to prove the truth is out there.
Serving as both the series finale for The X-Files spin-off Millennium and a monster of the week outing for the agents, "Millennium" is notable for featuring Mulder and Scully's first kiss.
How I Met Your Mother
Type: Comedy, Romance
Cast: Josh Radnor, Jason Segal, Cobie Smulders, Neil Patrick Harris, Alyson Hannigan
Rating: 83% RT, 8.3/10 IMDb
Ted Mosby tells his children how he met their mother (and everything about his 20s and 30s in New York City).
https://www.youtube.com/watch?v=8wNmDJGfFpM
The gang's quest for a perfect New Year's Eve results in them celebrating the big night stuck in traffic.
Fraiser
Type: Comedy
Cast: Kelsey Grammer, David Hyde Pierce
Rating: 94% RT, 8.1/10 IMDb
Fraiser Crane moves to Seattle where he reunites with his erudite brother Niles and working-class father Martin.
The Crane men go a New Year's Eve road trip that goes wrong when Niles falls asleep in someone else's RV.
Seinfeld
Type: Comedy
Cast: Jerry Seinfeld, Jason Alexander, Julia Louis-Dreyfus
Rating: 88% RT, 8.9/10 IMDb
Jerry, Elaine, Kramer, and George deal with the minutia of New York City life.
"The Millennium," Season 8, Ep 20
Newman and Kramer battle over New Year's plans for the millennium several years before it actually happens.
Don't forget your old acquaintances this New Year's, because there's nothing better than starting the year off by hanging out with your old TV friends.