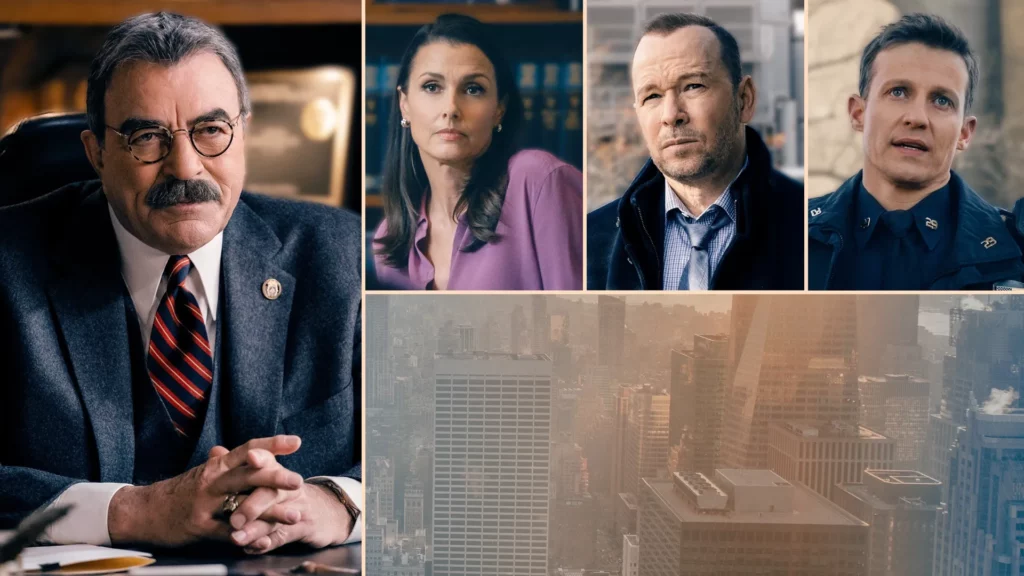 The hit CBS drama Blue Bloods has captured viewers' hearts for over a decade. From its gripping storylines to its captivating characters, it's no wonder this show continues to be a fan favorite. The show follows the lives of the Reagan family, an Irish-American clan of police officers in New York City, and their struggles with crime and family dynamics. The talented actors who bring these characters to life are central to this beloved series. Let's look at some of those actors and get to know them better.
Cast of Blue Bloods are not streaming in your country?
Any of our picks not streaming in your country? ExpressVPN unlocks Reelgood and all of your streaming services, giving you access to all movies and TV shows from around the world. Stream them from anywhere with a 30-day money-back trial from ExpressVPN.
Unblock Streaming with ExpressVPN (3 months free for Reelgood users!)
Connect to a US or UK server via ExpressVPN.
Let ExpressVPN run in the background as you watch all of your movies and TV shows, securely and with no throttling or bandwidth limits.
Tom Selleck as Frank Reagan
Tom Selleck has been a Hollywood staple for decades, appearing in iconic shows like Magnum P.I., Friends, and Blue Bloods. He stars as Frank Reagan, the patriarch of the Reagan family who serves as New York City Police Commissioner. Selleck's portrayal of Frank is nuanced and heartfelt, creating a character that fans have grown to love. He's also been praised for his offscreen work with veterans and police officers, demonstrating his commitment to justice and public service.
Donnie Wahlberg as Danny Reagan
Donnie Wahlberg has been acting since he was a teenager, appearing in classic films like Ransom and The Sixth Sense before joining Blue Bloods in 2010. He plays Danny Reagan, a detective in the NYPD who also serves as one of Frank's sons. Wahlberg's performance is intense yet subtle, showcasing Danny's dedication to justice while highlighting his softer side regarding family matters. In addition to his acting career, Wahlberg is an accomplished singer-songwriter who has released several albums.
Bridget Moynahan as Erin Reagan-Boyle
Bridget Moynahan is best known for her roles in I Robot and Sex & The City before joining Blue Bloods in 2010. She plays Erin Reagan-Boyle, an Assistant District Attorney who serves as another one of Frank's children. Her bold but vulnerable performance conveys Erin's unwavering commitment to justice while showing her softer moments with her family members. Aside from acting, Moynahan is also an accomplished author whose work has been featured in publications such as Vogue and Vanity Fair.
Will Estes as Jamie Reagan
Will Estes has acted since he was a child star on shows like American Dreams and U-571 before joining Blue Bloods in 2010. He plays Jamie Reagan, another of Frank's children who serves as a rookie NYPD officer despite being from a long line of police officers in his family tree. Estes brings Jamie to life with both charisma and heartache at times when he feels torn between honoring his father's legacy or forging his path within law enforcement. Estes also does charity work with organizations such as Generation Rescue, which helps families with children suffering from autism spectrum disorders.
Len Cariou as Henry Reagan
Len Cariou rounds out the cast of Blue Bloods as Henry Reagan, Frank's father and former NYPD Police Commissioner himself. Cariou brings an air of wisdom to Henry's character, which helps him serve as an adviser both onscreen for the other Reagans and offscreen for viewers watching at home. His performance demonstrates that age doesn't necessarily mean retirement from service but that you can still make valuable contributions even after retirement. Cariou's career extends far beyond Henry, having won both Tony Awards for Broadway performances and Emmy Awards for television appearances.
The cast of Blue Bloods is truly remarkable, each actor bringing their unique talents and perspectives together to create something special. Their performances have helped elevate this show from just another police procedural into something truly special that has connected with audiences worldwide. So next time you're watching Blue Bloods, take some time to appreciate these characters and the talented actors behind them.