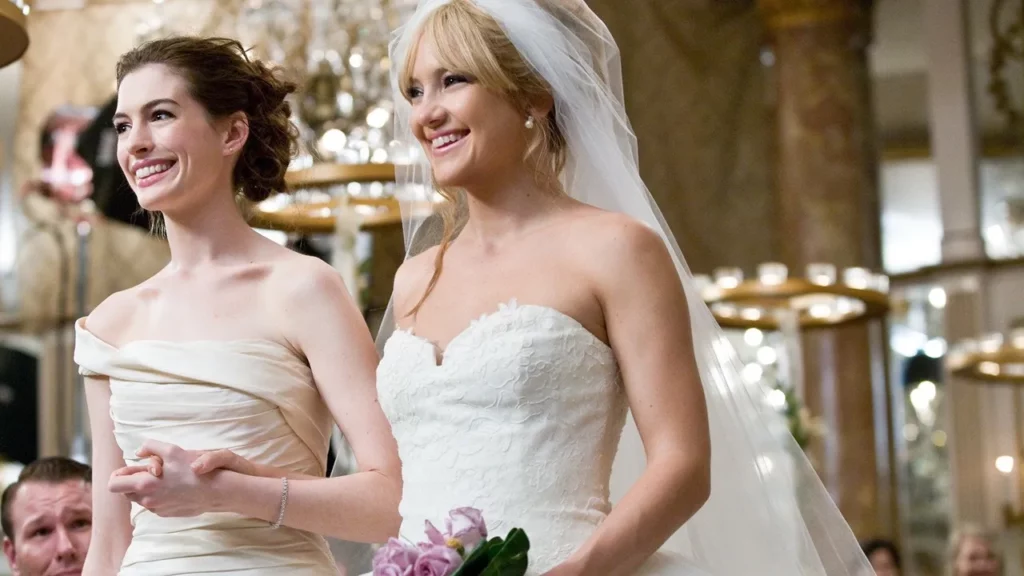 Get ready for a hilarious and heartwarming journey into the world of weddings, friendships, and unforgettable comedy with "Bride Wars." This delightful film takes us on a wild ride as two best friends find themselves pitted against each other in the ultimate bridal showdown. With a stellar cast, a captivating story, and plenty of laughs along the way, "Bride Wars" is a must-watch for fans of romantic comedies. In this article, we'll dive into the exciting details of the film, including the trailer, cast, how to watch it, and everything we know so far. So grab your popcorn and get ready to join the wedding festivities as we uncover all the bridal chaos and laughter that awaits you in "Bride Wars."
Bride Wars is not streaming in your country?
Any of our picks not streaming in your country? ExpressVPN unlocks Reelgood and all of your streaming services, giving you access to all movies and TV shows from around the world. Stream them from anywhere with a 30-day money-back trial from ExpressVPN.
Unblock Streaming with ExpressVPN (3 months free for Reelgood users!)
Connect to a US or UK server via ExpressVPN.
Let ExpressVPN run in the background as you watch all of your movies and TV shows, securely and with no throttling or bandwidth limits.
Unveiling "Bride Wars": A Unique Entry in the Franchise
"Bride Wars," tells the story of two best friends, Emma and Liv, who have dreamed of their perfect wedding since childhood. However, their friendship is put to the test when they accidentally book their weddings on the same day at the same venue. What starts as a friendly rivalry quickly escalates into an all-out war as Emma and Liv embark on a series of pranks and schemes to sabotage each other's weddings.
The film explores themes of friendship, loyalty, and the lengths people will go to achieve their dreams. It delves into the complexities of female relationships and the challenges that arise when personal desires clash with the bonds of friendship.
Release Date and Trailer Analysis: Unveiling the Countdown to "Bride Wars"
Release Date: January 9, 2009
The trailer opens with a sweeping aerial shot of New York City, setting the backdrop for the film's vibrant and glamorous setting.
Comedic moments are interspersed throughout the trailer, showcasing Liv and Emma's schemes to upstage each other. From hair dye mishaps to fake tans gone wrong, the comedic chaos ensues, leaving the audience laughing.
Emotional moments take center stage as the friends begin to realize the strain their rivalry is putting on their relationship. The trailer hints at a deeper theme of friendship and loyalty, making viewers curious about the outcome of their bond.
Romantic subplots are briefly hinted at, suggesting that Liv and Emma's relationships with their respective partners might be affected by their wedding war. This adds a layer of complexity and emotional investment to the story.
The trailer concludes by teasing the audience with quick cuts of comedic and emotional scenes, leaving them eager to see how the story unfolds and whether Liv and Emma can reconcile their friendship.
The Talented Ensemble: Meet the Cast and Crew of "Bride Wars"
Gary Winick (Director):
Gary Winick directed "Bride Wars," bringing his expertise to helming romantic comedies. With a keen eye for balancing humor and heartfelt moments, Winick skillfully guided the film's overall vision and storytelling.
Kate Hudson (Liv):
Kate Hudson portrayed Liv, one of the film's leading characters. Known for her charismatic and comedic performances, Hudson brought Liv's determination and competitive spirit to life, infusing the character with energy and wit.
Anne Hathaway (Emma):
Anne Hathaway played Emma, the other central character in "Bride Wars." With her talent for both comedy and drama, Hathaway embodied Emma's resilience and vulnerability, creating a relatable and endearing character.
Bryan Greenberg (Nate):
Bryan Greenberg portrayed Nate, a key supporting character in the film. His portrayal added depth to the story, providing insights into Liv and Emma's relationships and offering a touch of romance to the narrative.
Chris Pratt (Fletcher):
Chris Pratt brought his comedic chops to the role of Fletcher, another significant supporting character. Pratt's comedic timing and charm added levity to the film, contributing to its overall comedic tone.
Steve Howey (Daniel):
Steve Howey played Daniel, a character who had a connection with Liv and Emma. Howey's performance brought charisma and a hint of unpredictability to Daniel, adding an intriguing dynamic to the story.
Candice Bergen (Marion St. Claire):
Candice Bergen portrayed Marion St. Claire, a renowned wedding planner. With her seasoned acting skills, Bergen brought sophistication and authority to the character, making Marion an influential figure in the film.
Kristen Johnston (Deb):
Kristen Johnston played Deb, a supporting character in the film. Johnston's comedic prowess added a delightful and quirky touch to Deb, providing comedic relief and contributing to the film's overall humor.
Unveiling the Top Reasons to Experience "Bride Wars": A Must-Watch Delight for Fans
Compelling Reasons to Watch:
Laugh-Out-Loud Comedy: "Bride Wars" is a laugh-out-loud comedy that guarantees a fun-filled cinematic experience, providing much-needed comic relief and entertainment.
Stellar Cast: With an ensemble cast led by Kate Hudson and Anne Hathaway, along with talented supporting actors, the film features exceptional performances that bring the characters to life and enhance overall enjoyment.
Relatable Themes: From the desire for a dream wedding to the complexities of friendships, "Bride Wars" explores relatable themes that resonate with audiences, making it a captivating and relatable watch.
Escapism and Entertainment: In a world filled with wedding chaos and high-stakes competition, "Bride Wars" offers a delightful escape from reality, providing pure entertainment that transports viewers into a world of comedy and romance.
Feel-Good Vibes: "Bride Wars" is a feel-good movie that leaves audiences with a warm and uplifting feeling, reminding them of the importance of love, laughter, and the bonds we share with those closest to us.
Unlock the Bridal Laughs: How to Watch "Bride Wars" from Any Country
Step-by-Step Guide: How to Watch "Bride Wars" from Any Country
Check Streaming Platforms: Start by checking the availability of "Bride Wars" on various streaming services. While it may be exclusively available on MAX in some regions, it's always good to explore multiple options. Some popular platforms to consider include MAX, Amazon Prime Video, Netflix, and iTunes.
Choose a Reliable VPN Service: To bypass geo-restrictions and access "Bride Wars" from any country, you'll need a reputable VPN service. One highly recommended option is ExpressVPN. It offers a secure and reliable connection, ensuring a smooth streaming experience without compromising your online privacy.
Install and Set Up the VPN: Download and install the VPN software on your device. ExpressVPN is compatible with a wide range of operating systems and devices. Once installed, launch the VPN application and follow the instructions to set up your account.
Connect to a Server: Open the VPN application and choose a server location where "Bride Wars" is available for streaming. For example, if MAX is the exclusive streaming platform, connect to a server in a country where MAX is accessible.
Activate the VPN Connection: Click the connect button in the VPN application to establish a secure connection to the selected server. Once connected, your IP address will appear as if you're browsing from the chosen country, allowing you to access geo-restricted content.
Access the Streaming Platform: Launch the streaming platform where "Bride Wars" is available and sign in to your account. If you don't have an account, create one by following the platform's registration process.
Search for "Bride Wars": Use the platform's search function to find "Bride Wars" in the movie or TV show library. Alternatively, you can browse through the relevant categories or featured sections to locate the film.
Start Streaming: Click on the "Bride Wars" title to access its dedicated page. From there, you can choose to rent, purchase, or start streaming the movie, depending on the platform's options and your preferences.
Enjoy the Show: Sit back, relax, and enjoy the hilarious antics of "Bride Wars" from the comfort of your own home. With your VPN active, you can now watch the movie without any geo-restrictions.