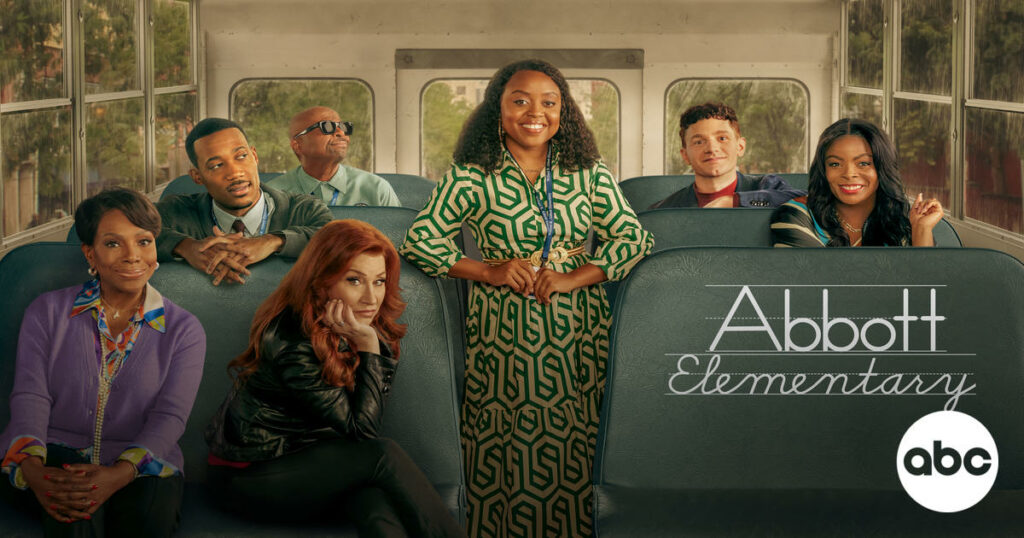 There's nothing quite like finding a perfect new show or movie: something that keeps you entertained for its entire runtime and makes you think deeply for hours or days after viewing. This new column on the Reelgood Blog will take one excellent new film or series and provide a hearty list of semi-related recommendations to make your latest streaming obsession even more rewarding. This week's list is all about ABC's breakout and Emmy-winning Abbott Elementary, which is the best television sitcom on now and run by the showrunner, lead writer, and lead actress Quinta Brunson.
Abbott Elementary (HBO Max and Hulu)
Quinta Brunson was inspired by her 6th-grade teacher Ms. Abbott to write Abbott Elementary, an excellent sitcom about an underfunded West Philadelphia elementary school. It's been the breakout network comedy series on ABC since it debuted in 2021, and it even won three Emmys for its inaugural season, including awards to Brunson for writing, outstanding casting, and a best-supporting actress nod to Sheryl Lee Ralph. This is an impressive haul for any sitcom but especially so for one on its first season.

A show about public school teachers trying their best in a tough environment is the perfect fodder for a workplace comedy. Brunson plays Janine Teagues, a young and eager-to-teach new hire at Abbott whose unfailing optimism is both endearing but also makes her unbearably annoying to her hardened and cynical peers. Those peers include Barbara Howard (Sheryl Lee Ralph), a no-nonsense educator who has been in the same job for several decades, and Melissa Schemmenti (Lisa Ann Walter), a party-loving Philadelphia-raised 2nd-grade teacher who clearly cares about her students despite her messy personal life. These characters' boss, 
These characters feel lived in, the situations feel like an authentic reflection of the realities of public schools, and the ensemble cast is consistently hilarious. But one of the most potent parts of the series is Brunson's writing: her lines are eminently quotable, memorable, and feel genuine to the characters. Its second season hits ABC on Sept. 21, and we couldn't be more excited.
1. Superstore (Hulu and Peacock Premium)
Working in a big box retail store seems like a thankless and grueling gig. Superstore gets that. A sitcom that doesn't shy away from working-class realities, unrewarding service jobs, and small-town tyrant bosses might seem like a slog, but the NBC series shines by highlighting the solidarity between coworkers and the small moments that make a tough job bearable. Starring America Ferrera (Ugly Betty) and Ben Feldman (Mad Men), the two lead one of the more underrated sitcom ensembles of the past decade. Their characters also undergo a "will they or won't they?" romance throughout the series that's actually way less predictable than you'd imagine.
2. Rutherford Falls (Peacock)
Michael Schur has excelled at making heartfelt comedies featuring genuinely good people who consistently try to do the right thing despite sometimes clumsily failing at it. Whether it be The Office, Parks & Recreation, The Good Place, or his latest show Rutherford Falls, Schur's protagonists are flawed, but they strive for kindness. On Peacock's Rutherford Falls, which the streamer unfortunately canceled after just two seasons, the show follows Nathan Rutherford (Ed Helms), a descendent of the founder of a small town, and his unlikely friendship with Reagan Wells (Jana Schmieding), a member of a Native American tribe who challenges Rutherford's conception of home. Schur and Helms brought on Navajo-American showrunner Sierra Teller Ornelas, who made the writer's room half-indigenous, and throughout Rutherford Falls, the thought and care put into these characters are tangible.
3. Fresh Off the Boat (Hulu)
Following the success of shows like Modern Family and Black-ish, ABC struck gold once again with Fresh Off the Boat, which ran from 2015 to 2020 across six seasons and 116 episodes. Based on chef Eddie Huang's hilarious and unflinching 2013 memoir of the same name, the show depicted a Taiwanese-American family in 1990s Florida. When it debuted in 2015, it was the first American sitcom in 20 years to feature an Asian American family as the main character, which is frankly embarrassing for television. While the series smoothed over some of the more brutal details from Huang's autobiography to make it more palatable to mainstream audiences (to Huang's chagrin), the show maintained positive reviews and ran for several seasons before its cancellation.
4. Black-ish (Hulu and Disney+)
Black-ish had a great run on ABC, airing eight seasons and 175 episodes from 2014 to 2022. Throughout its tenure populating Wednesdays and Tuesdays on the major network, the show honed in on the Black and upper-middle-class Johnson family, helmed by Dre (Anthony Anderson) and Rainbow Johnson (Tracee Ellis Ross). It featured several guest actors like Laurence Fishburne, Beau Bridges, Raven-Symone, Daveed Diggs, and several more. The show was so successful in balancing familial drama with current events and social issues that it garnered two spin-off series: Grown-ish, which followed their kids as they went to college, and Mixed-ish, a prequel to Black-ish.
5. Rap Sh!t (HBO Max)
If the plot of HBO's Rap Sh!t sounds like the origin story of the popular rap duo City Girls, it's not a coincidence. Yung Miami and JT serve as executive producers on the show. Its first season premiered this summer and garnered a small but vocal fanbase who loved the story of estranged high school friends rekindling their bond and forming a rap group. While it may not be HBO's marquee show, the network is investing in it: earlier this week, the show was renewed for an extremely-welcome second season. It captures the same charm of Abbott Elementary despite being set in the music world rather than the world of education.
6. South Side (HBO Max)
By far the most laugh-out-loud-inducing TV show currently streaming, South Side is a masterclass in biting comedy that's both hyper-local and socially aware. You'll have trouble finding a current comedy series more gut-busting, and you don't even have to live in Chicago to find it hilarious. The show follows two down-on-their-luck friends, Simon and Kareme, who work at a Rent-To-Own company and hustle in various harebrained plots to get rich quickly. Their foils come from the equally ridiculous police officer duo (played by real-life couple Chandra Russell and Bashir Salahuddin, the show's co-creator).
7. Detroiters (Paramount+)
Before I Think You Should Leave, Tim Robinson and Sam Richardson co-starred in Comedy Central's Detroiters, arguably the best series Comedy Central ever had (maybe except South Side, which only aired on there for one season before making the switch to HBO Max). Detroiters follows two lifelong friends who live next door to each other and also own an advertising agency in their home city of Detroit. The two may not be the best marketers and ad guys in the city, but they sure have a lot of heart and unconventional methods for doing the best for their clients. It's a charming show that features a ton of Robinson's scream-comedy.
8. The Carmichael Show (Hulu)
Jerrod Carmichael has long been a vital comedian. Before he came out in what's the best comedy special of the year in Rothaniel or co-starred with Christopher Abbott in the black-comedy On the Count of Three, he had his own sitcom in The Carmichael Show. The show, which was co-produced by A24, aired for three seasons on NBC and co-starred Amber Stevens West, Lil Rel Howery, Tiffany Haddish, and David Alan Grier.
9. Flatbush Misdemeanors (Showtime Anytime)
It's unreal and almost unconscionable that Showtime decided to cancel Flatbush Misdemeanors, arguably its best show on the network at just two seasons. From comedians Dan Perlman and Kevin Iso, who serve as showrunners and star as fictionalized versions of themselves, the show follows two best friends, Flatbush and Brooklyn, trying to get by and survive. Dan's character is a drug-addicted teacher who refuses to stand up for himself, while Kevin is an aspiring artist who gives up too easily and often self-sabotages. It's a brutal combination for the two of them, and their bad luck ends up making for both hilarious moments and small revelations. It was a beautiful, funny, and human show, and it's gone too soon.