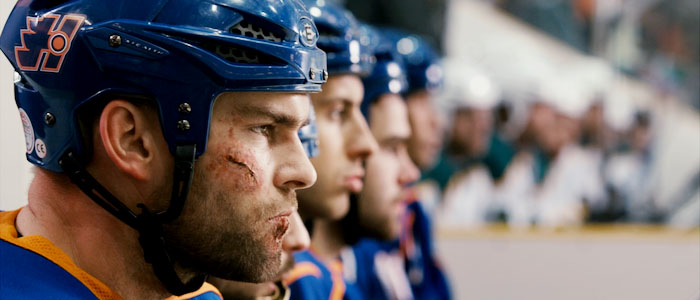 When you think of sports movies, you don't automatically assume that you'll find the good ones on a free streaming service. But with more and more free sites emerging every year, you'd be surprised by what you'll find.
If you're looking for an adrenaline rush to get you pumped for this weekend's showdown against the Los Angeles Rams and the New England Patriots, check out these 8 free sports films right now.
Goon
Type: Action & Adventure, Mystery, Thriller, Comedy, Drama, Sport
Release Date: 2012
Director: Michael Dowse
Starring: Sean William Scott, Jay Baruchel, Alison Pill
Rating: 82% RT, 6.8/10 IMDb
https://www.youtube.com/watch?v=j2K_BAzDgbg
For non-hockey fans, you may not know that a "goon" is a loose term for a team's enforcer. While not an official role, these tough guys are an important part of every game. Here, we see a slacker with little direction in life, being recruited as a minor league goon after he takes down a rogue player who enters the bleachers looking for a fight. This little-known flick is probably my favorite performance by Sean William Scott.
Hoosiers
Type: Drama, Family, Sport
Release Date: 1986
Director: David AnspaughStarring: Gene Hackman, Barbara Hershey, Dennis Hopper
Rating: 88% RT, 7.6/10 IMDb
One of the most beloved basketball movies of all time, Hoosiers is loosely based on the true story of a small-town high school basketball coach in Milan, Indiana. Gene Hackman, in the role of a lifetime, plays the role to perfection.
The Cutting Edge
Type: Comedy, Drama, Romance, Sport
Release Date: 1992
Director: Paul Michael Glaser
Starring: D.B. Sweeney, Moira Kelly, Roy Dotrice
Rating: 63% RT, 6.9/10 IMDb
In this film about an unlikely duo competing in competitive pairs figure skating. When a hockey player finds himself in hot water, he manages to reform his image by teaming up with a partnerless figure skater. D.B. Sweeney and Moira Kelly are adorable here.
Radio
Type: Biography, Drama, Sport
Release Date: 2003
Director: Mike Tollin
Starring: Cuba Gooding Jr., Ed Harris, Alfre Woodard
Rating: 36%, 6.9/10 IMDb
While this heartwarming true story didn't bring in the critical praise it may have deserved, it is at its core just a good old fashioned feel-good movie that leaves you feeling a bit better about humanity than when you came into it.
Days of Thunder
Type: Action & Adventure, Drama, Romance, Sport
Release Date: 1990
Director: Tony Scott
Starring: Tom Cruise, Robert Duvall, Nicole Kidman
Rating: 39% RT, 6/10 IMDb
https://www.youtube.com/watch?v=AhUhuDW_jOw
With Tom Cruise and his ex Nicole Kidman playing romantic leads in this Tony Scott film about a young and naive stock car racer, it's easy to feel a little bit cringey about it. But if you relax and enjoy the ride (sorry), I think you'll find it pleasantly entertaining. Especially great here is Robert Duvall as Cruise's curmudgeonly mentor.
Foxcatcher
Type: Biography, Drama, Sport, Mystery, Thriller
Release Date: 2017
Director: Bennett Miller
Starring: Steve Carell, Channing Tatum, Mark Ruffalo
Rating: 87% RT, 7/10 IMDb
Foxcatcher is certainly Steve Carell's most serious role to date. This sports drama tells the story of the slow unraveling of Olympic coach John du Pont and the events leading up to the unthinkable murder of one of his athletes.
Any Given Sunday
Type: Action & Adventure, Drama, Sport
Release Date: 1999
Director: Oliver Stone
Starring: Al Pacino, Dennis Quaid, James Woods
Rating: 51% RT, 6.9/10 IMDb
The story of an aging head coach, played by the prolific Al Pacino and directed by Oliver Stone is bound to be worth the watch. While that may be true, the action here is a bit overwhelming and overdone. What makes this movie worth watching is the underlying story, which manages to push through all of the action and give us something worth watching.
Lords of Dogtown
Type: Action & Adventure, Biography, Drama, Independent, Sport
Release Date: 2005
Director: Catherine Hardwicke
Starring: Emile Hirsch, Victor Rasuk, John Robinson
Rating: 55% RT, 7.1/10 IMDb
This dramatization of the advent of modern skateboarding came after Stacy Peralta's award-winning documentary Dogtown and Z-Boys made waves on the indie circuit. The film follows Peralta, Jay Adams, and Tony Alva (John Robinson, Emile Hirsch, and Victor Rasuk) as they navigate the growing popularity of the sport and its monetization. The three boys and their cohorts work under the guidance Skip Engblom (Heath Ledger), the entrepreneur who created the Z-Boys team that would eventually make them all famous.